Stewards
Organized 1967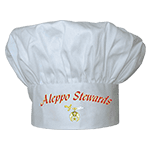 Pleasing the Nobility is our specialty.
The Temple Stewards can be found diligently working in the kitchen at Aleppo serving coffee and doughnuts, cooking hamburgers and hot dogs, and making chili or other sumptuous meals during Ceremonials, many fraternal events, as well as and certain shows like the Circus and Roller Derby. During other shows, the Stewards staff the concession stand selling water, soda, popcorn and pretzels.
Members with cooking skills are always needed, as long as you don't mind washing dishes too. We do it all! If you enjoy dealing with the public, or if you prefer to work in the "back of the house" we have a spot for you and your spouse. Oftentimes a Noble and his Lady will work together in the kitchen or at the concession stand. Much of what we raise is donated to worthwhile causes; some of the funds are used to recognize a job well done.
We also feed the Nobles for most public parades. We will prepare sandwiches the day before and meet everyone before the parade kicks off.
There is no initiation fee or annual dues to be a steward. We meet monthly just prior to the Heads of Units meeting for assignments and round table discussions. To apply for membership, contact Chief Steward, John Maihos, at 978-804-7143, or email him at john@aleppostewards.org
Upcoming Unit Events
There are no upcoming events at this time.
Stewards
Unit Meetings
Line Officers
Chief Steward
John Maihos
H 978-922-6311
C 978-804-7143
Assistant Chief Steward
Lawrence J. Anderson
H 781-935-7068
Assistant Chief Steward
Douglas E. Goolsby
H 978-281-6580
Assistant Chief Steward
Ralph M. Plumer
H 978-658-3997
C 978-407-9028
Assistant Chief Steward
John D. Allen
H 781-595-8259
Aleppo Shriners Uniformed Units