Director's Staff
Organized 1886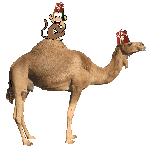 It doesn't matter how many times we've done it, the Nobility loves us. Instituted in 1886, this Unit organizes the stunts and good-natured fun which highlight the initiation of candidates.
This unit is the one that organized the many stunts which highlights the initiation of candidates. The unit meets weekly for planning programs and social times. Unit members include an artist, engineers, cabinet makers, carpenters and lab technicians; all of whom contribute their "know how" to provide ceremonial entertainment.
Upcoming Unit Events
There are no upcoming events at this time.
Director's Staff
Unit Meetings
Every Sunday, Unit Room, 8:00am
Every Tuesday, Unit Room, 7:00pm
Line Officers
Director
J. Steve Dalrymple, Sr.
H 617-628-6251
Assistant Director
Vincent P. Nestor, III
H 781-933-8203
Assistant Director
Richard F. Gorman, II
H 781-938-1371
Captain
Nickalas C. Dalrymple
H 617-999-7833
Aleppo Shriners Uniformed Units